Zinc & Vitamin C - Health Aid - 60 Tablets - New Improved Zincovit-C
Zinc & Vitamin C - Health Aid - 60 Tablets - New Improved Zincovit-C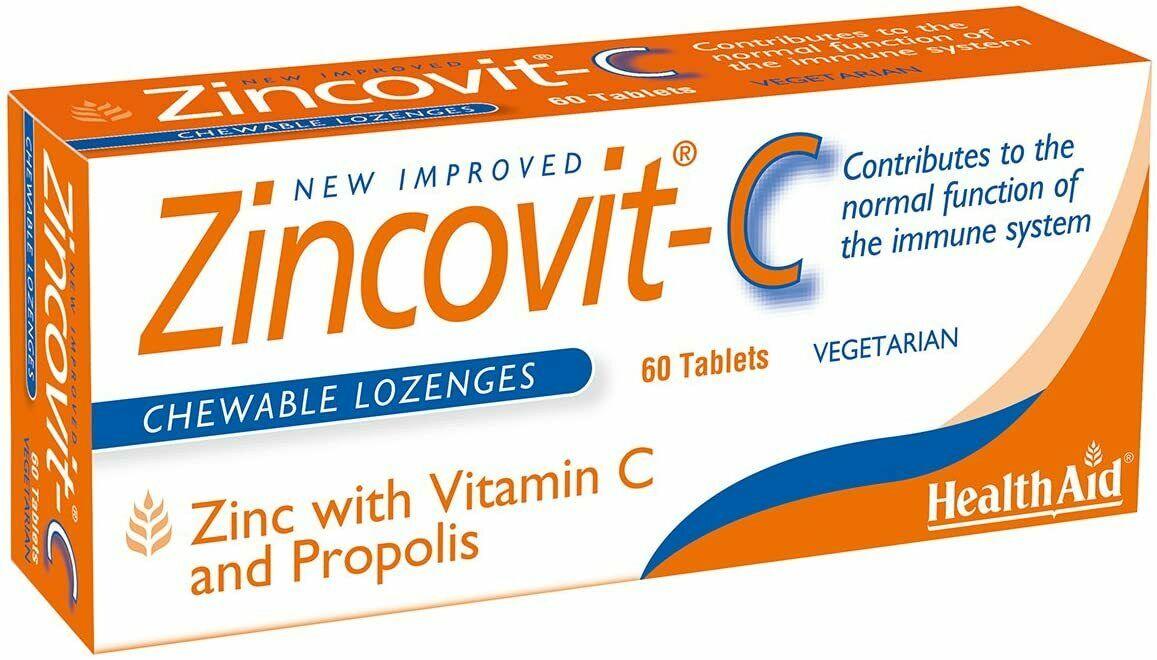 We're sorry we're out of stock, but we can let you know as soon as this product becomes available again.
Enter your details below and we'll email you once this item is back in stock.
Product Information
HealthAid ZincoVit C Tablets are specially formulated with Zinc, Vitamin C and Propolis to provide all the richness and beneficial properties of these three important ingredients in one pleasant tasting lozenge. An ideal supplement for all year round immune support. Especially in the winter when the body needs all the help it can get during the cold months, and spring to help boost your immune system.
Zinc is essential for growth, carbohydrate metabolism, and nutrient assimilation, maintenance of enzyme system, healthy bones, skin, collagen, protein synthesis and reproductive organs.
Vitamin C, an essential antioxidant, contributes to normal iron absorption, collagen formation, and growth, repair of soft tissues, bones, teeth and healthy gums.
Propolis is a natural product from the Beehive renowned worldwide for its wide ranging properties and is used by bees to strengthen and fortify the hive.
HealthAid Zincovit C Tablets may be of benefit to:
Those who have sore throats
Those who wish to lessen the duration of a cold or flu
Those who want to fortify the immune system

When should I take HealthAid Zincovit C Tablets?
ZincoVit C Tablets can be taken either prior to or during a cold or flu, particularly if experiencing a sore throat.
*For any questions please contact us to see if we may be able to help you.
* If you require this item quicker please send us a message.
*Items maybe flat packed for delivery purposes. All items included in the box will be enclosed along with any instructions that come with the item.
*Please see our other products at our Brother Pharmacy Store which you may also be interested in.