Vitabiotics Ultra Magnesium 375mg Premium Quality - 60 Tablets***Multi-Buy***
Vitabiotics Ultra Magnesium 375mg Premium Quality - 60 Tablets***Multi-Buy***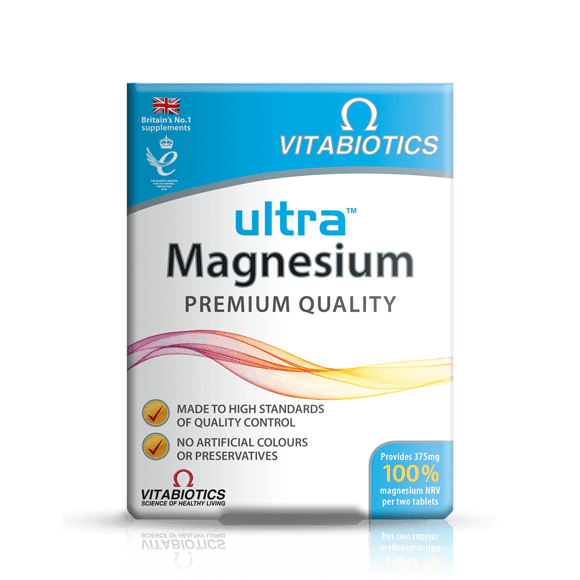 We're sorry we're out of stock, but we can let you know as soon as this product becomes available again.
Enter your details below and we'll email you once this item is back in stock.
Product Information
Ultra Magnesium – 60 tablets 30 day supply
Optimum strength Magnesium
Magnesium plays a number of important roles within the body including helping to maintain normal bones and teeth. Two tablets of Ultra Magnesium provides 100% (375mg) of the Recommended Daily Allowance of Magnesium.
Ultra Magnesium may be suitable for those:
With hectic lives
 Seeking extra bone support
 Over 50
Many international studies have shown the importance of the mineral magnesium in the body.
Energy Release & Reduction of Tiredness & Fatigue
Magnesium contributes to normal energy release and also contributes to the reduction of tiredness and fatigue.
Nervous System & Muscle Function
Magnesium contributes to normal functioning of the nervous system and has a role in the process of cell division. Protein contributes to the growth and maintenance of muscle mass and magnesium contributes to normal protein synthesis and normal muscle function.
Bones and Teeth
The presence of the mineral magnesium, as well as contributing to the maintenance of normal bones and teeth, also contributes to normal protein synthesis and electrolyte balance.
Psychological Function
Magnesium contributes to normal psychological function.
This information is not intended to be a substitute for professional medical advice, diagnosis, or treatment. Always seek the advice of your physician or other qualified health professionals regarding any medical condition.
*For any questions please contact us to see if we may be able to help you.
* If you require this item quicker please send us a message.
*Items maybe flat packed for delivery purposes. All items included in the box will be enclosed along with any instructions that come with the item.
*Please see our other products at our Brother Pharmacy Store which you may also be interested in.