Vitabiotics Ultra Iron Sustained Release B12, Folic Acid & Vit C - 30 Tablets
Vitabiotics Ultra Iron Sustained Release B12, Folic Acid & Vit C - 30 Tablets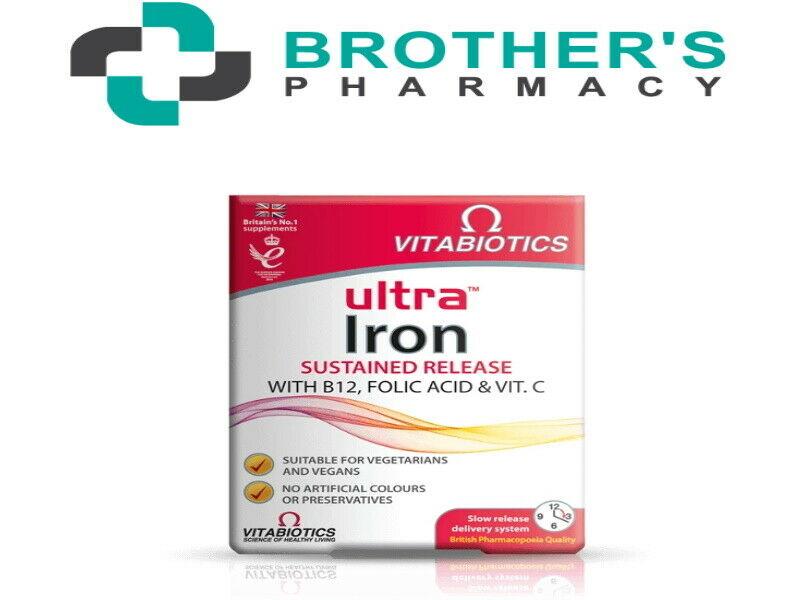 We're sorry we're out of stock, but we can let you know as soon as this product becomes available again.
Enter your details below and we'll email you once this item is back in stock.
Product Information
Vitabiotics Ultra Iron Sustained Release B12, Folic Acid & Vit C - 30 Tablets
Ultra Iron provides gentle, slow release iron carefully balanced with supporting co-factors vitamin B12, folic acid plus vitamin C for increased iron absorption. Iron is an essential mineral for a number of vital functions in the body, but sometimes our diets are not well balanced and even drinking tea or coffee can inhibit iron absorption.
Blood formation
Iron and vitamin B12 contribute to normal formation of red blood cells. Iron also contributes to normal formation of haemoglobin and normal oxygen transport in the body.
Reduction of tiredness and fatigue
Iron, vitamin B12 and vitamin C contribute to normal energy release and the reduction of tiredness and fatigue.
Iron absorption
Vitamin C increases iron absorption. It also contributes to normal collagen formation for the normal function of blood vessels.
Immune system function
Iron, vitamin B12, vitamin C and folic acid contribute to normal immune system function.
Cell division
Iron, vitamin B12 and folic acid all have a role in the process of cell division.
When is extra iron especially recommended?
Ultra Iron is suitable for people of all ages and is particularly suitable for during pregnancy, menstruating women, athletes and slimmers. Ultra Iron is formulated for long-term use and can be taken for as long as required.
Delivery
Items may be sent flat packed to provide free delivery, however, item box and patient information leaflet will also be sent. 
*For any questions please contact us to see if we may be able to help you.
* If you require this item quicker please send us a message.
*Items maybe flat packed for delivery purposes. All items included in the box will be enclosed along with any instructions that come with the item.
*Please see our other products at our Brother Pharmacy Store which you may also be interested in.