Vitabiotics Ultra Folic Acid 60 Tablets with Vitamin B12 Pregnancy Tiredness
Vitabiotics Ultra Folic Acid 60 Tablets with Vitamin B12 Pregnancy Tiredness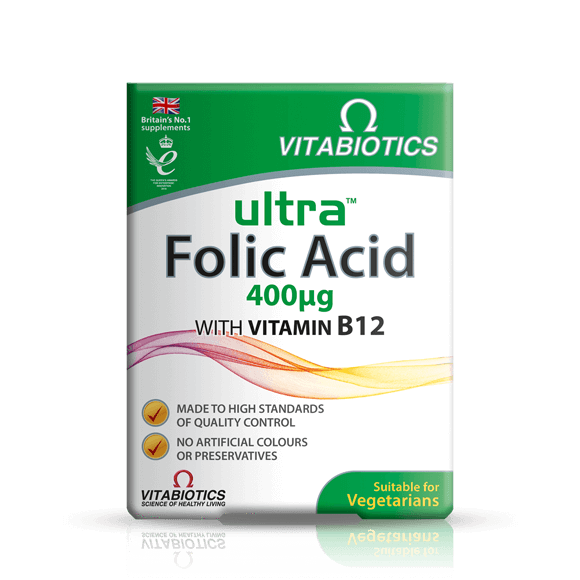 We're sorry we're out of stock, but we can let you know as soon as this product becomes available again.
Enter your details below and we'll email you once this item is back in stock.
Product Information
Ultra Folic Acid – 60 tablets
Ultra Folic Acid from Vitabiotics is formulated with 400µg folic acid, carefully balanced with 5µg vitamin B12. Folic Acid, also known as folate or vitamin B9, is important before & during pregnancy and for men and women of all ages for general wellbeing.
Before and during pregnancy
The UK Department of Health recommends that women planning a baby should take a supplement containing 400µg of folic acid from the start of trying to conceive until the 12th week of pregnancy, as found in Ultra Folic Acid.
Supplemental folic acid† intake increases maternal folate status. Low maternal folate status is a risk factor in the development of neural tube defects in the developing foetus.
Folic acid can also be used throughout pregnancy, as it contributes to maternal tissue growth during pregnancy. Vitamin B12 has a role in the process of cell division and contributes to normal red blood cell formulation.
Immune system
Folate and vitamin B12 contribute to the normal function of the immune system.
Tiredness and fatigue
Vitamin B12 also contributes to normal energy release and the reduction of tiredness and fatigue.
†For women of child bearing age the beneficial effect is obtained with a supplemental folic acid daily intake of 400µg for at least one month before and up to three months after conception.
This information is not intended to be a substitute for professional medical advice, diagnosis, or treatment. Always seek the advice of your physician or other qualified health professionals regarding any medical condition.
*For any questions please contact us to see if we may be able to help you.
* If you require this item quicker please send us a message.
*Items maybe flat packed for delivery purposes. All items included in the box will be enclosed along with any instructions that come with the item.
*Please see our other products at our Brother Pharmacy Store which you may also be interested in.