Ultra Calcium with Vitamin D, 30 Tablets Strong Bone Support Heath***Multi-Buy**
Ultra Calcium with Vitamin D, 30 Tablets Strong Bone Support Heath***Multi-Buy**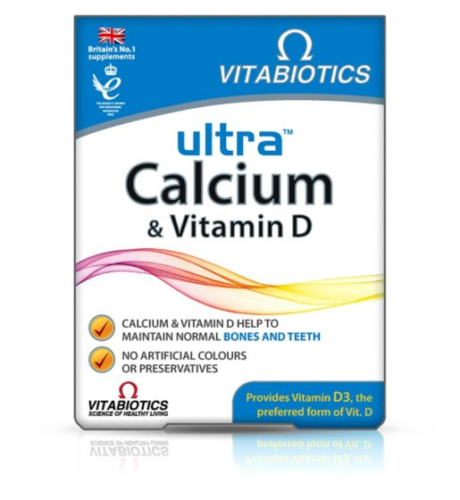 We're sorry we're out of stock, but we can let you know as soon as this product becomes available again.
Enter your details below and we'll email you once this item is back in stock.
Product Information
Ultra Calcium with Vitamin D, 30 Tablets Strong Bone Support Heath***Multi-Buy Discount***
Product details
Ensuring an adequate intake of calcium is vital for men and women of all ages.
Ultr  Calcium from Vitabiotics provides calcium carefully balanced with vitamin D which supports to normal absorption and utilisation of calcium.
Bone Mineral Density
Calcium and vitamin D contribute to the maintenance of normal bones,
teeth and normal muscle function. They also help to reduce the loss of
bone mineral in post-menopausal women††. Low bone mineral density is a
risk factor for osteoporotic bone fractures‡.
Cell division & Neurotransmission
Calcium and vitamin D have a role in the process of cell division. In
addition, calcium contributes to normal neurotransmission.
Energy Release
Calcium also contributes to normal energy release and the normal
function of digestive enzymes.
No artificial colours
No preservatives
No lactose
Gluten free
No salt or yeast
Ultra Calcium is not tested on animals
†† A beneficial effect is obtained with a daily intake of at least
THE UK DEPARTMENT OF HEALTH RECOMMENDS
Those aged 65 years and over should take a daily supplement of 10μg of vitamin D.
How to use
ONE OR TWO TABLETS PER DAY. Swallow with water or a cold drink. Not to be chewed. Do not exceed the recommended intake. Ultra Calcium may be used for as long as required. A regular intake is recommended.
Hazards and Cautions
FOOD SUPPLEMENT
Food supplements must not replace a varied and balanced diet and a healthy lifestyle.
As with other food supplements, seek professional advice before
using if you are under medical supervision or suffer from food allergies.
Store below 25°C in a dry place, out of sight and reach of children.
Ingredients
Calcium Carbonate, Potato Starch, Polyvinylpyrrolidone, Bulking Agents: Microcrystalline, Cellulose & Calcium Hydrogen Phosphate Dihydrate, Tablet Coating (Hydroxypropylmethylcellulose, Propylene, Glycol, Titanium Dioxide, Purified Talc), Anti-Caking, Agents: Magnesium Stearate & Purified Talc, Vitamin D , (Cholecalciferol [Carriers: Maltodextrin, Medium Chain Triglycerides, Colloidal Anhydrous Silica, Purified Talc, Butylated Hydroxyanisole, Ethyl Cellulose].
*For any questions please contact us to see if we may be able to help you.
* If you require this item quicker please send us a message.
*Items maybe flat packed for delivery purposes. All items included in the box will be enclosed along with any instructions that come with the item.
*Please see our other products at our Brother Pharmacy Store which you may also be interested in.