Tommee Tippee Baby feeding bottles, spoons, soothers, bowls, sippy cup
Tommee Tippee Baby feeding bottles, spoons, soothers, bowls, sippy cup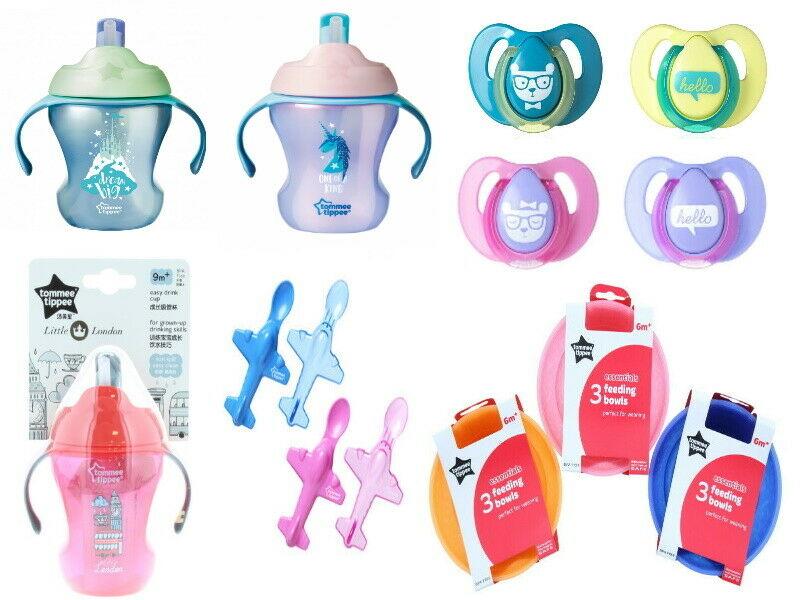 We're sorry we're out of stock, but we can let you know as soon as this product becomes available again.
Enter your details below and we'll email you once this item is back in stock.
Product Description;
Cherry Latex Soothers
Natural rubber latex cherry baglet
BPA-free


2x decorated cherry soothers 6-18m
Jackel International Limited trading as Mayborn Group
To comfort and soothe
Microwave steriliser safe
BPA free
3pk Bowls
·         Works with Tommee Tippee Magic Mat
·         Dishwasher, microwave and steriliser safe
·         Suitable for babies 6 months +
·         Available in Pink, Blue & Orange
·         BPA-free
Aeroplane Spoons
Shallow tip so food easy to 'take off'

First class fun

Great for in flight feeding

Dishwasher, microwave and sterilizer safe. bpa-free
Easy Drink Straw Cups
Tommee Tippee Explora Non Spill Training Easy­-Grip Straw Sippee Drink Cup Sipper 230m - BPA free

Engaging designs  to encourage babies use and interaction.

The Tommee Tippee Explora Sippee Cup has a 230ml capacity, and aimed at babies 6 months and over who are gradually being weaned off bottle and onto sippe cups. This sippee cup come with detachable handles and easy drink straw.

boy girl baby kids children This 230ml sippee cup is designed to keep drinks cool, and is available in a range of colours and patterns, to encourage your little one to enjoy drinking more. And with a soft spout for tiny new teeth, easy­-grip sides, and the trusty non­-spill valve it's perfect for drinking on the go.

Perfectly designed to keep your baby happy and hydrated. Chunky yet lightweight with easy­-grip sides, perfect for little hands, Super soft spout is gentle on your baby's gums when teething, All tommee tippee cups are BPA free As with all new tommee tippee cups, you can add on handles from other cups in the range (excluding the filter bottle) if your little one is happier that way, and you can remove the non-­spill valve in one piece to practice free flow drinking whenever you want.
*For any questions please contact us to see if we may be able to help you.
* If you require this item quicker please send us a message.
*Items maybe flat packed for delivery purposes. All items included in the box will be enclosed along with any instructions that come with the item.
*Please see our other products at our Brother Pharmacy Store which you may also be interested in.

        https://medicine-seller-register.mhra.gov.uk/search-registry/1084