Lanacane Cream 60g Soothes itching & Irritation, insect bites & Stings, chafe
Lanacane Cream 60g Soothes itching & Irritation, insect bites & Stings, chafe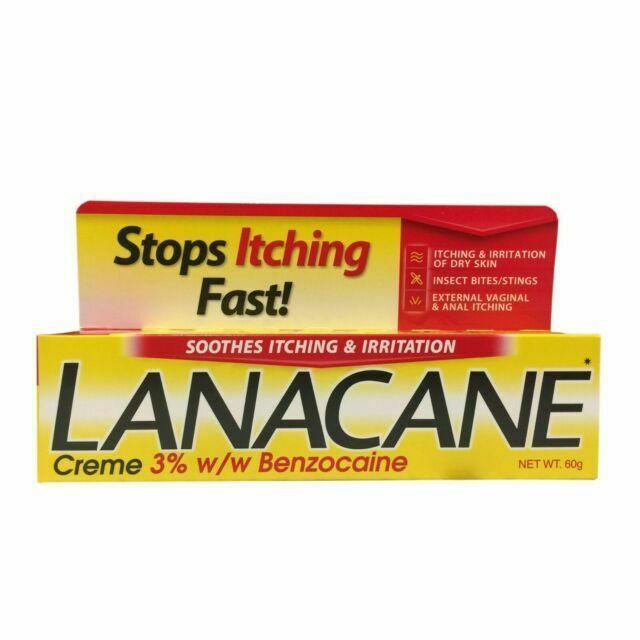 We're sorry we're out of stock, but we can let you know as soon as this product becomes available again.
Enter your details below and we'll email you once this item is back in stock.
Product Information
· Stops itching fast, non-greasy
· Relief of dry skin aggravated by scratching, scrapes, cuts, skin chafe, bites, stings, chapping, external vaginal and anal itching
· Forms a protective film over raw tissue
· Suitable for external itching
· Contains 3% w/w Benzocaine
Important information
Safety Information:
As with all medicines, keep Lanacane out of the reach and sight of children. Do not store above 25°C. Min Age Limit (Advisory): 12 Years
Indications:
On very rare occasions Lanacane can result in a skin reaction called sensitivity. This could become apparent by reddening of the skin, minor swelling, blistering, or through an intensification of the itch. In the unlikely event that you experience these symptoms, stop using Lanacane and consult your doctor for advice. Lanacane should be stored below 25°C in a safe place where children cannot reach it When not to use Lanacane: Do not use Lanacane for more than one week Do not use Lanacane
Ingredients:
Active Ingredient: Benzocaine 3% w/w Also Contains: Chlorothymol Diethylene Glycol Monoethyl Ether Docusate Sodium Perfume Glycerol Glycerol Monostearate Isopropyl Alcohol Stearic Acid Sulfonated Castor Oil Trolamine Water Zinc Oxide
Directions:
How to Use Lanacane Medicated Cream: For adults and children 12 years of age and older. Apply Lanacane to the affected area. Usually a 3-5cm strip of Lanacane is sufficient. Repeat as needed up to 3 times daily. Do not use Lanacane for more than one week. Do not use Lanacane on large body areas. Do not use Lanacane on the eyes. Stop use of Lanacane and consult your doctor if genital itching or other symptoms persist for more than one week. May rarely cause sensitivity. If this or any other side effect occurs, report details, stop use of Lanacane, and consult a doctor. Do not use Lanacane on children under 12 years of age. Do not use Lanacane in pregnancy without first consulting a doctor. Do not use after the expiry date shown. For external use only.

https://medicine-seller-register.mhra.gov.uk/search-registry/1084
*For any questions please contact us to see if we may be able to help you.
* If you require this item quicker please send us a message.
*Items maybe flat packed for delivery purposes. All items included in the box will be enclosed along with any instructions that come with the item.
*Please see our other products at our Brother Pharmacy Store which you may also be interested in.