HuxD3 Colecalciferol 20000iu Vitamin Hux D3 Capsules *Vegetarian Kosher Halal
HuxD3 Colecalciferol 20000iu Vitamin Hux D3 Capsules *Vegetarian Kosher Halal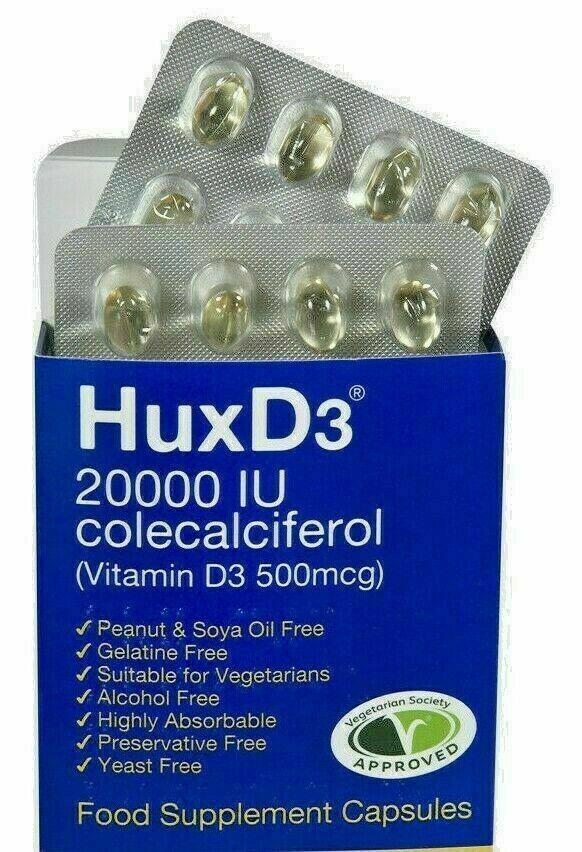 We're sorry we're out of stock, but we can let you know as soon as this product becomes available again.
Enter your details below and we'll email you once this item is back in stock.
HuxD3: Suitable For Vegetarians
Vitamin-D capsules foil packaged with a patient information leaflet. Please follow the directions on the printed leaflet. Avoid taking if you are sensitive to any of the ingredients. This product generally has a very long expiry date.
8 scary signs you're not getting enough vitamin D
Aching bones. Vitamin D is essential for supporting bones and their structure. 
Weakness in muscles.
Lack of sleep. 
Low mood or depression. 
Weight gain. 
Constantly coming down with coughs and colds. 
Trouble with your gut. 
Feeling tired all the time.
Some of the Key Benefits of taking Vitamin D: 
Bone Health
Vitamin D has a well-established role in maintaining normal calcium levels and the growth and maintenance of strong bones and teeth. It can also help to reduce the risk of bone-weakening diseases such as osteoporosis, however the optimum supplement dosage still needs to be determined.
Immune System
Vitamin D is an immune system regulator that helps to fight infections such as colds and flu. It does this by attacking and destroying damaging bacteria and viruses. Study findings suggest that low vitamin D levels significantly increase the risk of flu.
Disease
It is thought that vitamin D may help to protect people at a genetic level to fight chronic diseases such as heart disease, bone weakening diseases, and diabetes.
Colecalciferol Capsules contain the active ingredient colecalciferol. Colecalciferol is a form of vitamin D used in the initial treatment of clinically relevant vitamin D deficiency conditions in adults.
Colecalciferol 20 000 IU Capsules contain the equivalent of 500 micrograms vitamin D3 which is involved in bone formation. The active ingredient, colecalciferol, is identical to the vitamin D3 that is found in the human body.
Deficiency of vitamin D may occur when your diet or lifestyle does not provide you with enough vitamin D or when your body requires more vitamin D.
How to take:
1 capsule twice per week (equivalent to 40,000 IU/week) for 7 weeks (corresponding to a loading dose of 280,000 IU).
Maintenance therapy with lower doses of vitamin D equivalent to 800 to 1000 IU daily may be considered one month after the end of initial treatment with Colecalciferol 20,000 IU Capsules. For this purpose other preparations are available. Please see my Vitamin D products for your maintenance dose.
Not to be used for children under the age of 12
Cardboard packaging may be flat packed or missing for postage - a full product information leaflet will be provided with all orders
*For any questions please contact us to see if we may be able to help you.
* If you require this item quicker please send us a message.
*Items maybe flat packed for delivery purposes. All items included in the box will be enclosed along with any instructions that come with the item.
*Please see our other products at our Brother Pharmacy Store which you may also be interested in.

        https://medicine-seller-register.mhra.gov.uk/search-registry/1084