CLAIROL - NICE 'n EASY HAIR DYE COLOURS FOR WOMENS - *SELECT COLOUR *
CLAIROL - NICE 'n EASY HAIR DYE COLOURS FOR WOMENS - *SELECT COLOUR *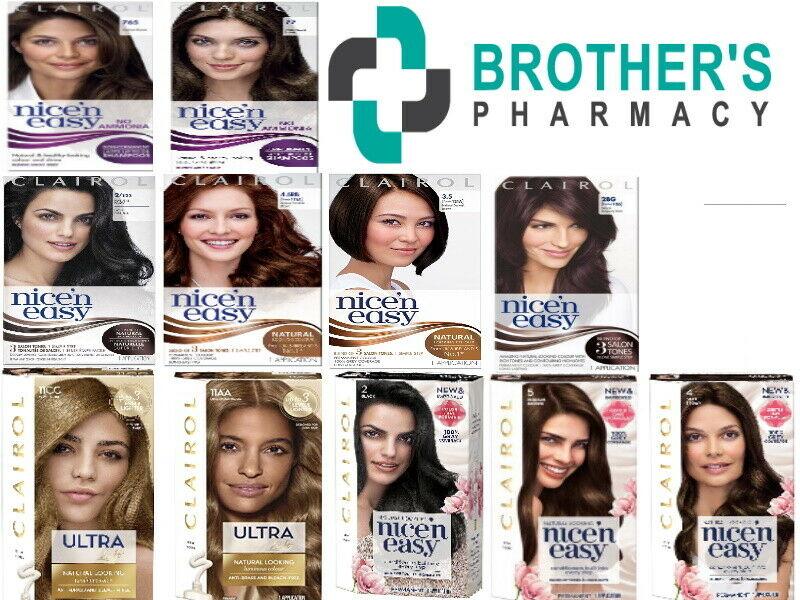 We're sorry we're out of stock, but we can let you know as soon as this product becomes available again.
Enter your details below and we'll email you once this item is back in stock.
Product Information
Clairol Nice'n Easy hair colour crème gives you the nicest and easiest way to refresh your look from the comfort of your own home. If you want to enhance the colour of your hair and make sure it stays perfectly true to you, with a non-drip floral scented formula, Nice'n Easy Permanent Hair Dye, delivers brilliant natural looking colour. Our breakthrough hair colour crème has conditioners built into every step, ensuring that hair maintains its soft, silky, smooth feel throughout the colouring process. In addition to phenomenal colour results, the colour care formula offers an upgraded colour experience with a non-drip colour crème that smells like flowers, not ammonia. Our revolutionary hair dye gives you 100% grey coverage with real natural looking tones & highlights while being kind to your hair. Plus, being allergy gentle, significantly reduces the chance of developing an allergy* (*in people without a hair dye allergy). It helps you keep grey hair at bay by providing real, natural looking luminous colour. With Clairol Nice'n Easy permanent colouring crème you get the colour that cares for your hair without compromising on colour result.
Step 1 - Prep:
Open Colour Crème tube and squeeze content into the Colour Activator applicator bottle.
Shake thoroughly until colour mixture is totally blended.
Step 2 - Apply Colour, Roots First:
Part your hair into small, even sections using the applicator tip. Apply colour mixture first to your roots and stubborn greys. Leave colour mixture on new root growth area for 20 minutes.
Tip: new hair growth needs more time to colour! Also, focusing on new growth protects your ends from over processing.
Step 3 - Apply To Rest Of Hair:
Apply remaining colour mixture to the rest of the hair. Work through hair from roots to tips to ensure full saturation. Let develop for an additional 5 minutes.
Total application time is 25 minutes.
Step 4 - Rinse:
When time is up, rinse and shampoo. Apply a quarter-size amount of CC+ Colour Seal Conditioner. Leave on for 2 minutes. Rinse. Use remaining CC+ Colour Seal Conditioner once a week after shampooing.
*For any questions please contact us to see if we may be able to help you.
* If you require this item quicker please send us a message.
*Items maybe flat packed for delivery purposes. All items included in the box will be enclosed along with any instructions that come with the item.
*Please see our other products at our Brother Pharmacy Store which you may also be interested in.