BetterYou DLux 3000 Daily Vitamin D Oral Spray Boost Natural Peppermint 15ml
BetterYou DLux 3000 Daily Vitamin D Oral Spray Boost Natural Peppermint 15ml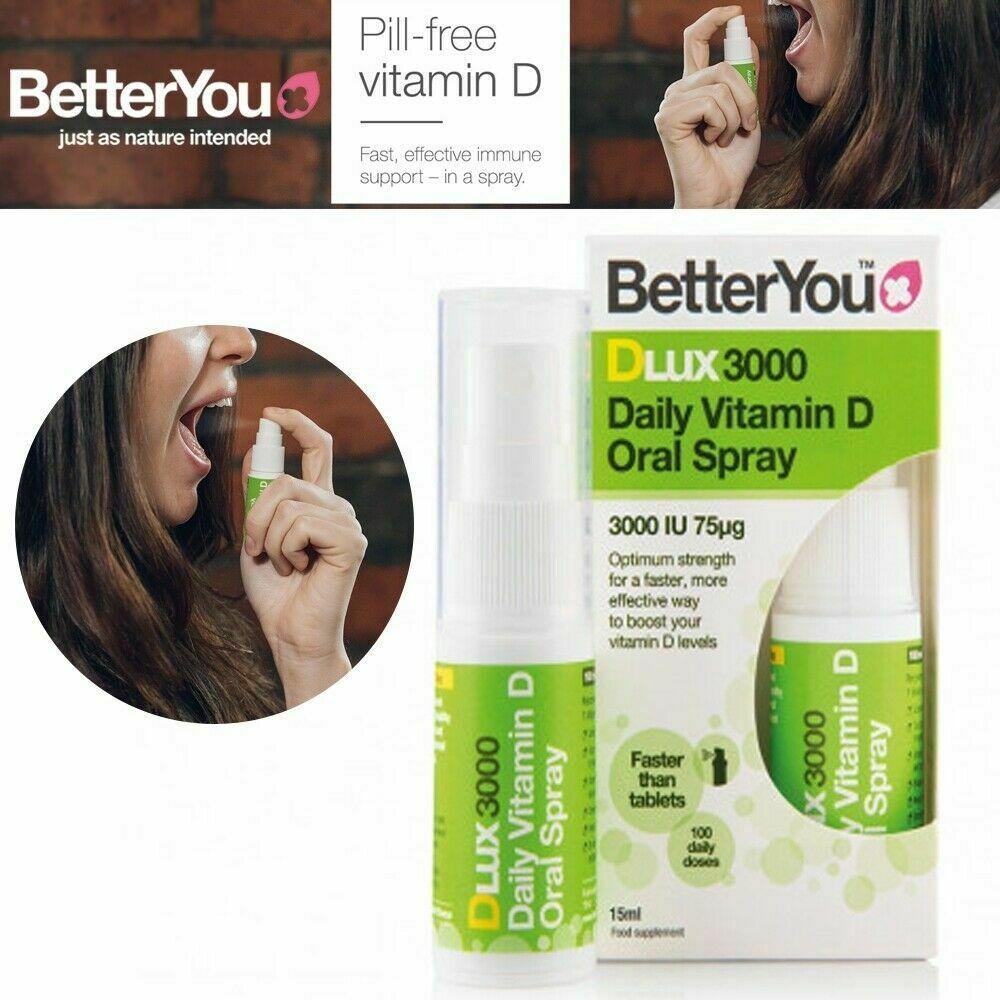 We're sorry we're out of stock, but we can let you know as soon as this product becomes available again.
Enter your details below and we'll email you once this item is back in stock.
BetterYou DLux 3000 is an optimum strength vitamin D oral spray, specially formulated to deliver vitamin D through the soft tissue of the mouth for optimal absorption.
• Each spray delivers 3000IU (75μg) of vitamin D3 for an optimal dosage
• Fast and effective absorption
• A convenient alternative to tablets and capsules
• Supports bones, teeth and a healthy immune system
• 100 daily doses
• Natural peppermint flavour
Details:
Delivering 3000IU per spray, DLux 3000 provides the optimal dosage for adults living in the northern hemisphere in a single daily spray.
Formulated to provide optimal nutritional delivery, each spray provides the vitamin D in micro-sized droplets that coat and permeate the soft-tissue of the inner cheek, delivery the essential nutrients into the rich vein system below.
This allows the formulation to quickly enter the bloodstream for optimal absorption.
Specifications:
• Product size: 15ml / 100 sprays
• Flavour Natural peppermint
• Usage length: 3-month supply
• Strength per single spray: 3000IU / 75μg
• Active ingredient: Cholecalciferol (Vitamin D3)
• Absorption tested by: Cardiff University
Importance of vitamin D:
Vitamin D aids calcium absorption, helps maintain healthy bones and teeth, supports a healthy immune system and contributes to normal muscle function.
Who needs it:
Due to our changing diets and ever-increasing internal lifestyles, everyone should look to ensure they maintain healthy vitamin D levels throughout the year.
However, the Department of Health outlines the following groups as "at-risk" and should strongly consider supplementation:
• All pregnant and breastfeeding women
• Infants and young children under 5 years of age
• Older people aged 65 years and over
• People who have low or no exposure to the sun
• People who have darker skin
How to use:
1) Initial use: press the pump 3 times to get the liquid flowing.
2) Shake well before every use. Carefully spray into your mouth, ideally onto the inside of your cheek, and hold for a few seconds.
3) Replace the cap after use.
Dosage:
1 spray delivers 3000IU of vitamin D.
Use 1 spray a day (or as directed by your healthcare practitioner).
Does not need to be taken with food or water, can be taken at any time of the day and combined with our other oral sprays.
Storage:
Once opened, use within 6 months.
Store at room temperature and out of direct sunlight.
Keep out of reach and sight of children.
Warnings:
Do not exceed recommended dosage – excessive consumption may produce laxative effects.
Food supplements should not be used as a substitute for a varied diet and healthy lifestyle.
Suitable for:
• Adults
• Children aged 13 years and above
• Use during pregnancy and breastfeeding
• Vegetarians
• People following a gluten free diet
No contraindications with prescribed medications.
Not Suitable for:
• Vegans (Vitamin D3 is sourced from sheep wool - lanolin) - Try BetterYou Vegan Health Spray
• Children aged 12 years and below – Try DLux 1000, DLux Infant or DLux Junior.
Ingredients:
Xylitol, water, acacia gum, cholecalciferol (vitamin D3), sunflower lecithin, citric acid, preservative: potassium sorbate, peppermint oil.
Nutritional Information:
• Each daily dose (1 spray) contains EC NRV
• Vitamin D3 3000IU / 75μg 1500%
• *EC Nutrient Reference Value
Free Froms:
• Sugar free
• Gluten Free
• No artificial colours
• No artifical flavours
• No additives
• No fillers
• No GMO
• No Alcohol
The BetterYou Source:
The source of vitamin D3 is Lanolin. This has been sourced from the wool of sheep living in Australia. The D3 is completely extracted from the Lanolin and while it is suitable for vegetarians (approved by the vegetarian society) it may not be suitable for those wishing to follow a strict vegan diet.
BetterYou takes pride in its unique approach to absorption, delivery and stability testing and proudly use natural, food-state, food-sourced ingredients wherever possible.
Proudly British made. Never tested on animals.
Manufactured in a GMP Facility.
*For any questions please contact us to see if we may be able to help you.
* If you require this item quicker please send us a message.
*Items maybe flat packed for delivery purposes. All items included in the box will be enclosed along with any instructions that come with the item.
*Please see our other products at our Brother Pharmacy Store which you may also be interested in.

        https://medicine-seller-register.mhra.gov.uk/search-registry/1084