Anusol Suppositories Treatment Haemorrhoids Shrinks Piles 3 Way Action - 24 Pack
Anusol Suppositories Treatment Haemorrhoids Shrinks Piles 3 Way Action - 24 Pack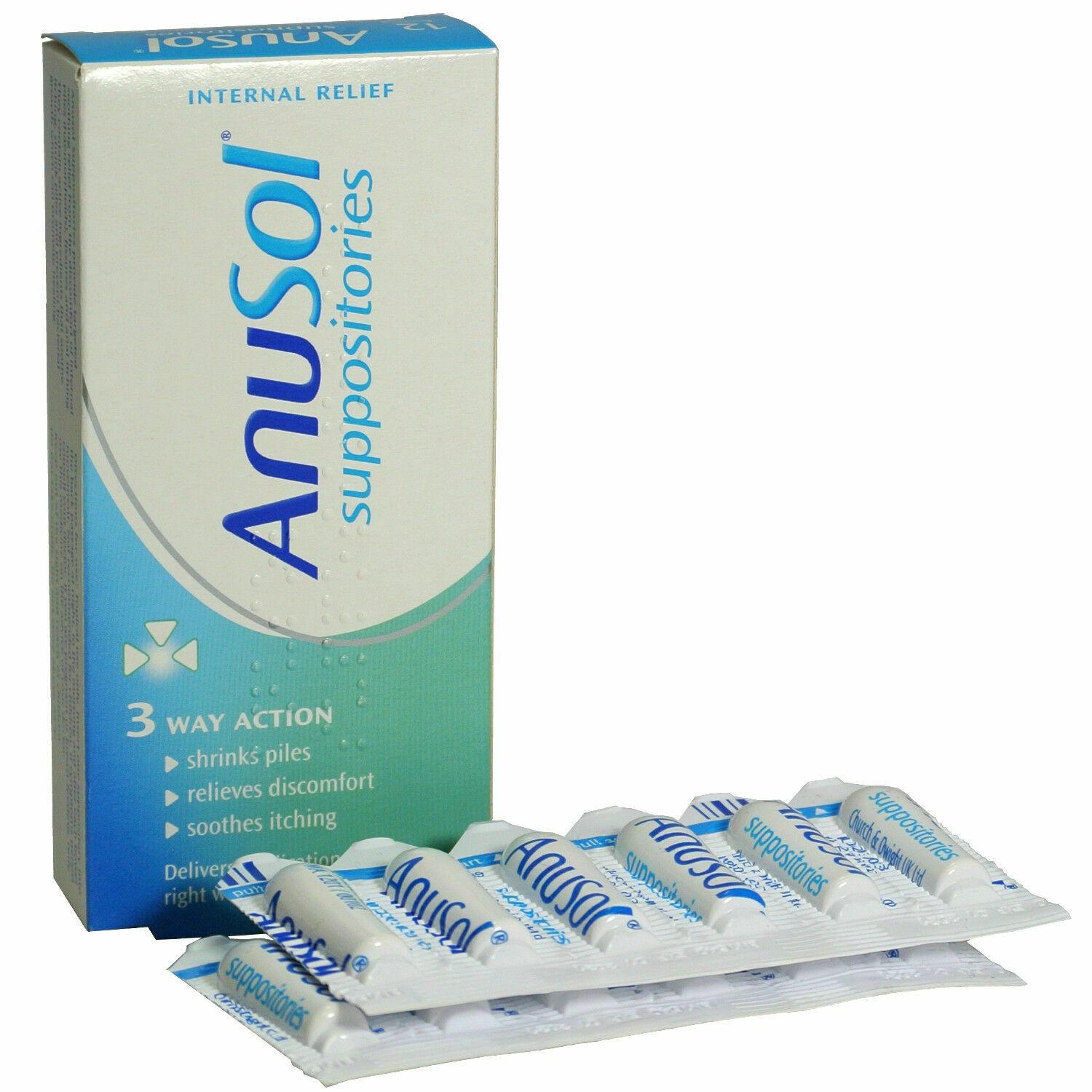 We're sorry we're out of stock, but we can let you know as soon as this product becomes available again.
Enter your details below and we'll email you once this item is back in stock.
Anusol Suppositories Haemorrhoids Soothing Shrinks Piles 3 Way Action - 24Pack
Key features
Provides targeted soothing relief from the discomfort of internal piles (haemorrhoids)

Contains active ingredients that soothe itching, shrink piles and prevent bacterial growth which can promote healing

For adults over the age of 18 years

Please read the Patient Information leaflet
Symptoms, Treatment & Advice
What causes piles?
A number of factors can contribute to the development of piles:
The most common cause is straining during bowel movement, usually as a result of constipation.

During pregnancy, the growing baby exerts increased pressure on the anal vessels, which can lead to piles.

Heredity: you may be more likely to develop piles if your family has a history of suffering.
What Anusol Suppositories is for?
Anusol Suppositories is a medicine which is used to relive the swelling, itch and irritation of internal piles (haemorrhoids) and other related conditions such as anal itching
This product is for use by adults over the age of 18 years old.
Symptoms
Some people have piles without experiencing any symptoms, but sufferers may notice the following:
Bleeding: Although streaks of bright red blood on the toilet paper are not uncommon in people with piles, it may be a sign of a more serious condition and you should see your doctor.
Swelling: The swollen blood vessels may be felt as a lump or blockage in the anus
Pain, itching and irritation in the anal region
At least 40% of people suffer from piles at some time in their lives. However, many people are too embarrassed to seek advice or treatment and, as a result suffer unnecessary discomfort.
How to use Anusol Suppositories
Anusol Suppositories

sh

ould be inserted into the anus.

Wa

sh the anal area and dry gently with a soft towel before using the medicine

Remove plastic cover from the suppository before use
Wash your hands before and after using Anusol
The suppository will melt after insertion
Ingredients and Precautions
Ingredients
The active substances are per 100g: Zinc oxide 296mg, Bismuth subgallate 59mg, Balsam Peru 49mg, Bismuth oxide 24mg.
Other ingredients: Kaolin light, suppocire BS2 pastilles (hard fat), titanium dioxide (E171), miglyol 812.
Possible side effects when using
Like all medicines, this medicine can cause side effects, although not everybody gets them.
Rare side effects (occurring in less than 1 in 1000 people)
Hypersensitivity reactions (such as rash)
Very rare side effects (occurring in less than 1 in 10,000 people)
Burning, redness, irritation, itching, or pain may occur when applying the cream. This does not usually last a long time, so if this lasts longer than a few days, tell your doctor
Reporting of side effects
If you get any side effects, talk to your doctor, pharmacist or nurse. This includes any possible side effects not listed here You can also report side effects directly via the Yellow Card Scheme at:
By reporting side effects you can help provide more information on the safety of this product.
Other Information
If you need more advice consult your doctor or pharmacist.
Keep all medicines out of the sight and reach of children.
*For any questions please contact us to see if we may be able to help you.
* If you require this item quicker please send us a message.
*Items maybe flat packed for delivery purposes. All items included in the box will be enclosed along with any instructions that come with the item.
*Please see our other products at our Brother Pharmacy Store which you may also be interested in.

https://medicine-seller-register.mhra.gov.uk/search-registry/1084