6 x Nair Moisturising Hair Removal Cream 80ml Legs & Body Hair Remover
6 x Nair Moisturising Hair Removal Cream 80ml Legs & Body Hair Remover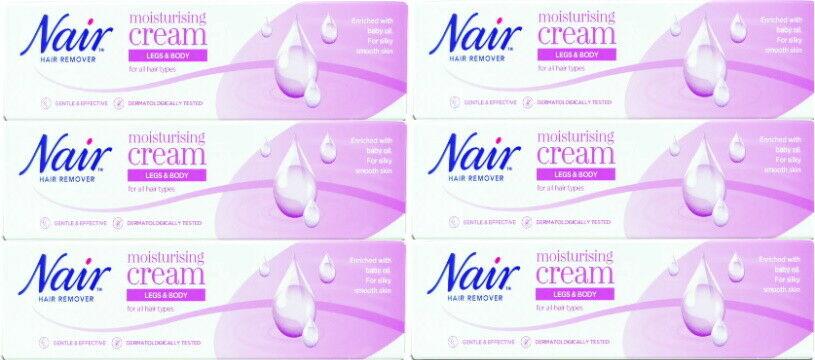 We're sorry we're out of stock, but we can let you know as soon as this product becomes available again.
Enter your details below and we'll email you once this item is back in stock.
Product Information
Nair
6x Hair Remover
All hair types
This offer is for six tubes
Moisturising Hair Removal Cream
For Silky Smooth Skin
With Baby Oil
All Hair Type
Follow the instructions exactly.
Irritation or allergic reaction may occur with some people, even after prior use without adverse effects.
Therefore, a test should always be carried out on a small part of the area to be treated before each use.
Follow the instructions and if the skin appears normal after 24 hours, proceed with full application.
Smooth on the cream in a thick, even layer, covering the hair to be removed.
DO NOT RUB IN.
After 5-6 minutes, test a small area.
If the hair does not come away from the test area easily, leave on for a few minutes longer.
DO NOT LEAVE FOR MORE THAN 10 MINUTES IN TOTAL
Shower off with lukewarm water using a wet cloth if required and pat skin dry with a soft towel.
DO NOT RUB OR USE SOAP.
CAUTIONS
Avoid contact with eyes.
In the event of contact with eyes, rinse immediately with a plenty of water and seek medical advice.
Hair removers can be used everywhere except around eyes, in nose, ears or on breast nipples, perianal or vaginal/genital areas.
Avoid contact with other materials as this could lead to damage or discolouration.
Do not use on irritated, sunburned, inflamed or broken skin or on weak scars.
If you feel burning or stinging, remove product immediately and rinse well with water.
Store at room temperature.
If stored at a low temperature, crystals may form.
Keep out of reach of children.
*For any questions please contact us to see if we may be able to help you.
* If you require this item quicker please send us a message.
*Items maybe flat packed for delivery purposes. All items included in the box will be enclosed along with any instructions that come with the item.
*Please see our other products at our Brother Pharmacy Store which you may also be interested in.